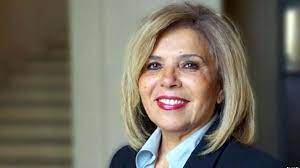 Moushira Khattab receives Danish Ambassador
Ambassador Dr. Moushira Khattab, President of the National Council for Human Rights (NCHR), on Tuesday, received the Danish Ambassador in Cairo Svend Olling, who extended his appreciation for NCHR, being an independent human rights mechanism.
During the meeting, the two sides discussed ways of boosting cooperation to support the Egyptian state's efforts to enhance human rights, most notably in light of the bold efforts taken by the Egyptian President and the launch of the national human rights strategy.
The meeting is part of a series of meetings held by the NCHR President, as she received multiple foreign ambassadors in Cairo to discuss various areas of cooperation.