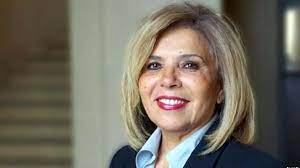 The Federation of Egyptian Communities in Europe chooses Ambassador Moushira Khattab as the female figure of the year
The Federation of Egyptian Communities in Europe, headed by Professor Mohamed Al-Zafzaf, announced the selection of Ambassador Dr. Moushira Khattab, President of the National Council for Human Rights (NCHR), Women's Personality of the Year for the current year 2023, for her prominent role in the field of human rights, and to clarify the true picture of the human rights situation in Egypt in light of the current challenges and the extent of Egypt's keenness to move forward to improve and pay attention to human rights issues, both at the national level or international.
The federation added that Ambassador Khattab was chosen for her active role in caring for childhood and motherhood issues in Egypt and making them a major focus in Egyptian national planning. While the federation emphasized her active role in advancing women, educating them, defending their issues and enabling them to play a pioneering role, which was evident in their participation in the "Women in Public Service" program.
Ambassador Khattab expressed her thanks and appreciation for this honour from the Federation of Egyptian Communities, appreciating their active role in contributing to supporting communication with Egyptians abroad and their homeland at home.