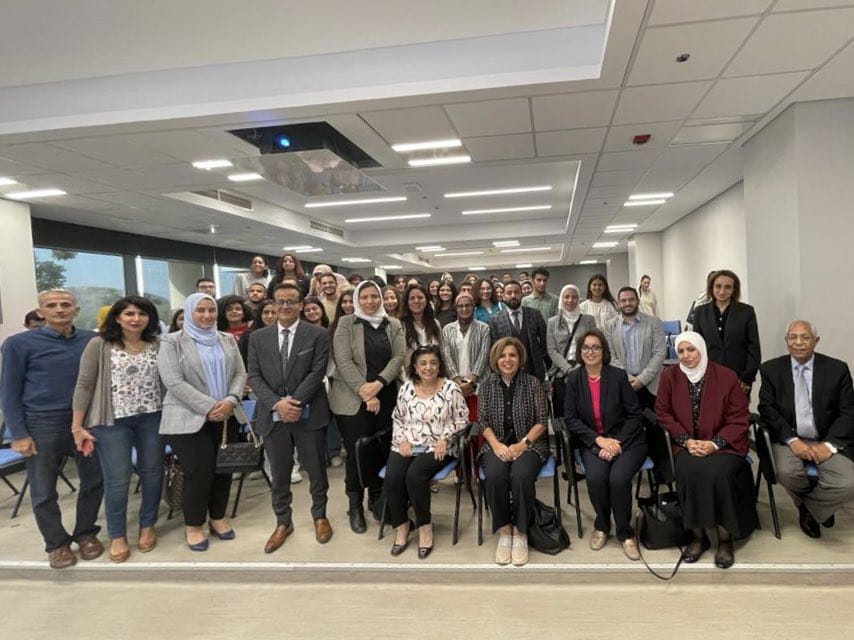 The President of the National Committee for Human Rights (NCHR) meets the students of New Giza University
Within the framework of the efforts of the National Council for Human Rights (NCHR) to spread and promote a culture of Human Rights, Ambassador Moushira President of the National Council for Human Rights (NCHR) held an extensive meeting with New Giza University students from different faculties (medicine - pharmacy - economics and political science - information technology - engineering) under the auspices of Dr. Ahmed Sameh Farid President of the university, with the participation of Dr. Hala Saqr, Dean of the Faculty of Economics and Political Science.
More than 100 university students participated in the meeting, with the participation of the Training and Projects Departments of NCHR. These meetings come to motivate young people to participate in public affairs and spread the culture of human rights in implementation of the National Human Rights Strategy launched by President Abdel Fattah El-Sisi in September last year, including training and education that contribute significantly to deepening the understanding of the benefits of Human Rights.
Khattab reviewed with the students the axes of the National Strategy in accordance with the United Nations system for Human Rights, which began to be given international attention since the formulation and development of the Universal Declaration of Human Rights issued in 1948, which Egypt participated in drafting in the aftermath of the Second World War after human suffering that claimed the lives of millions of people. In the first place, respect for human dignity and the principle of equality and non-discrimination for all human beings, everywhere, and for any reason.
Khattab praised the conscious and educated youth who are aware of the issues of his country during the dialogue, through their presentation of various issues that have a direct impact on Human Rights, and the discussion touched on the most prominent societal issues, including issues of empowering women and children, people with disabilities and the elderly) and addressing the phenomenon of child marriage and child labor, which represents a violation of children's rights, child labor, as well as the efforts of Egyptian to combat terrorism.
Her Excellency stressed that addressing hate speech in society contributes positively to consolidating respect for pluralism and acceptance of the other and prevents societal tension and the growth of violence, stressing that promoting a culture of Human Rights in society and empowering citizens of their rights freely contributes to the stability of societies until peace and justice prevail.
It also appreciated the realistic and tangible measures taken by the state in the file of human rights, and that the issue of human rights is a national priority of the first order, which the state pays great attention to at all levels.