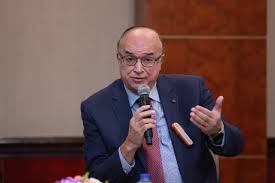 Egypt's report to APRM highlights the state's efforts in the field of governance, achievement of SDGs: Ambassador Karem
Ambassador Dr. Mahmoud Karem, Vice-President of the National Council for Human Rights (NCHR), stressed the importance of the African Peer Review Mechanism (APRM) in ensuring the African compliance to the good governance and human rights principles and monitoring states achievement of their development strategies in line with the Sustainable Development Goals (SDGs) and the African Union's development agenda 2063.
The NCHR Vice-President made this statement following his participation in the Ministry of Foreign Affairs event held on the occasion of the launch of Egypt's Universal Periodic Review report as part of APRM, which was attended by heads of the African diplomatic missions and international organisations in Egypt, as well as representatives of civil society organisations, media and academic institutions and heads of research centres.
Moreover, Ambassador Karem added that Egypt's report highlighted the State's efforts, under the directives of President Abdel Fattah El-Sisi in the field of political, economic and social governance, most notably relating in youth and women empowerment, in addition to the launch of the national human rights strategy in September 2021 and the implementation of its pillar, the implementation of "Haya Karima" initiative aimed at ensuring rural development in Egypt and the significant efforts to implement SDGs.