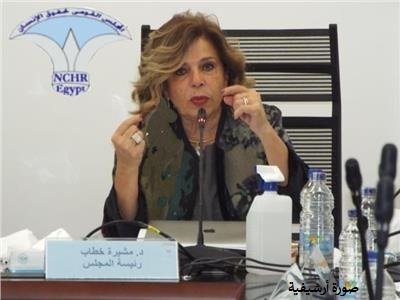 NCHR launches first session with Civil Society organisations
The National Council for Human Rights (NCHR) launched the first dialogue session with Civil Society organisations on the implementation of the national human rights strategy and the declaration of 2022 as the Year of the Civil Society by President Abdel Fattah El-Sisi.
The meeting, which was held via Zoom video conferencing application, was attended by Ambassador Moushira Khattab, President of NCHR, Ambassador Mahmoud Karem, Vice-President of NCHR, a number of civil society organisations representatives, and President of the General Federation of NGOs.
In the beginning of the meeting, Ambassador Moushira Khattab highlighted that the NCHR is welcoming cooperation with all NGOs nationwide to implement the national human rights strategy and to address the related challenges.
The NCHR President pointed out that the national human rights strategy should be broken down to tangible and achievable objects either in the Year of Civil Society (2022) or by the end of the national strategy timeline (2026).
Moreover, NGOs representatives discussed a variety of important ideas during the meeting, including the strengthening of NGOs network nationwide with the support of NCHR. The participants in the meeting also called to enlarge the scope of promoting the culture of human rights and volunteering among young generations.
The meeting participants also agreed on holding regular meetings moving forward to strengthen cooperation with NCHR.